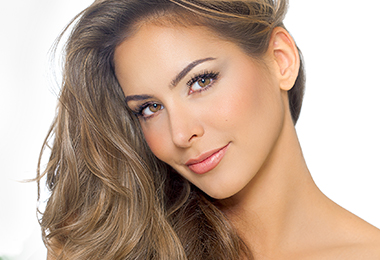 Cosmetic Surgery Financing Options in Savannah, GA
Locations Also in Hilton Head, Statesboro & Effingham
Our prospective Savannah plastic surgery patients often want to know the cost of plastic surgery procedures at The Georgia Institute For Plastic Surgery. It is important to understand what charges are included so that you can compare prices carefully. Our fees include the surgeon's fees, the operating room facility charges, the anesthesia charges, the cost of implants and immediate postoperative dressings, as well as the patient's routine postoperative care.
Through MyCosmeticSurgeon.md, we invite you to learn more about plastic surgery and the services offered by our practice.
MyCosmeticSurgeon.md was designed to help you better understand the plastic surgery and cosmetic procedures available to enhance your image. You can view before and after photos to see results from many Savannah plastic surgery patients, as well as those from across Georgia (GA) and South Carolina (SC). You can also learn about the plastic surgery procedures, read up-to-date information, and identify expectations for the outcome of your procedure, such as breast augmentation, liposuction, facelift, rhinoplasty (nose surgery), tummy tuck (abdominoplasty) and many others.
Plastic Surgery Cost Range Chart
Our plastic surgeons, Dr. Greco, Dr. Dascombe, Dr. Paletta, Dr. Horn, Dr. Campbell and Dr. Buchanan, wish to be your first choice as a resource for news and information. We invite you to explore our website and visit one of our plastic surgery offices to discuss your cosmetic surgery options. Our plastic surgeons are committed to providing the highest quality care at the most reasonable cost, with service exceeding expectations. When you think of plastic surgery in Savannah, Georgia, think of The Georgia Institute For Plastic Surgery.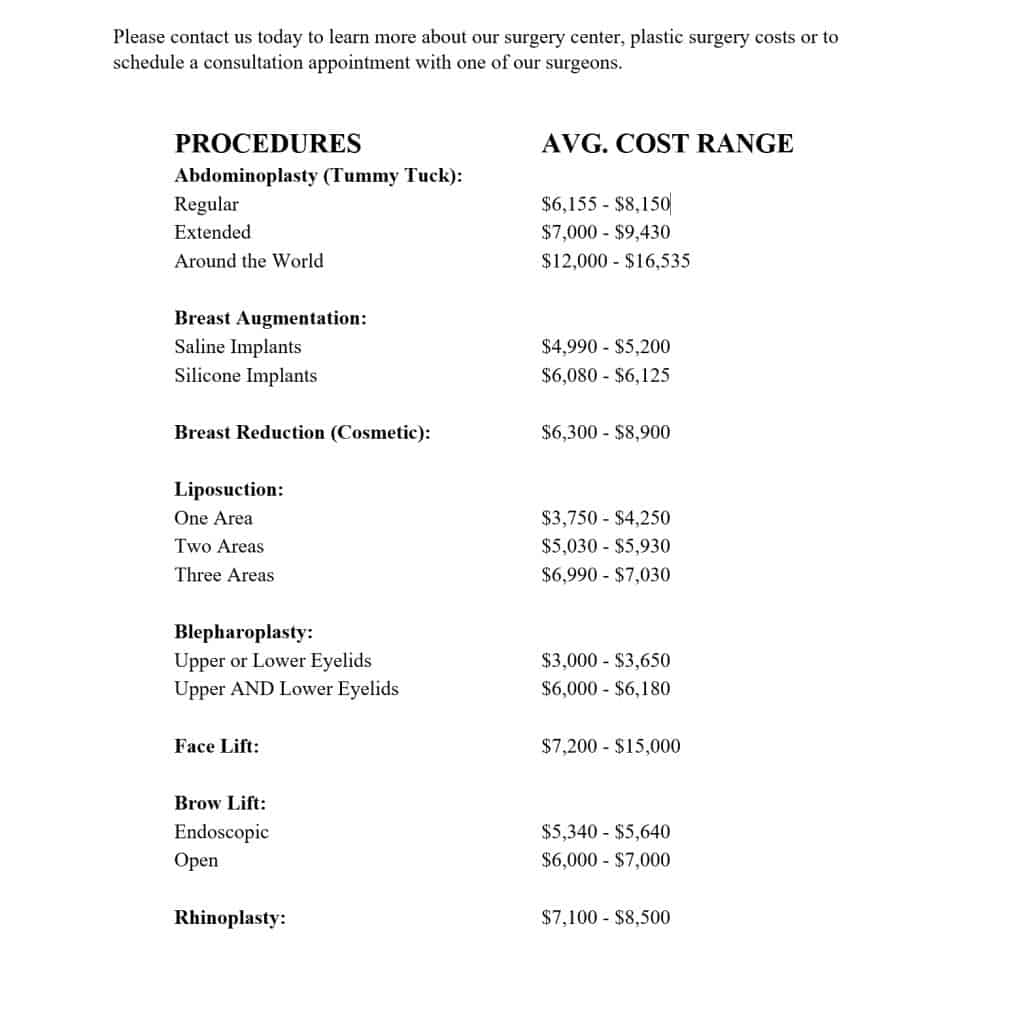 Cosmetic Surgery Costs and Fees
The total cost of plastic surgery at The Georgia Institute For Plastic Surgery includes all preoperative evaluations, the anesthesia fee, the operating room fee, the surgeon's fee and postoperative care. Our accredited, onsite surgery center in Savannah is a leading-edge facility that allows us to provide our patients with a convenient and comfortable outpatient surgery experience, thereby greatly reducing additional costs associated with hospitals while providing the same high standard of surgical and medical care.
Some patients hesitate to undergo cosmetic surgery due to the cost. However, our patients consistently report that the compassionate treatment and quality aesthetic results they receive at The Georgia Institute For Plastic Surgery are well worth the cost. With our years of experience and training, our accredited, state-of-the-art surgical facility and our utmost regard for patient privacy and safety, we consistently provide stunning results that leave patients wondering why they didn't undergo surgery sooner. While some aesthetic surgeons and markets may be cheaper, when it comes to plastic surgery, quality service and striking results are worth the expense.
The cost for each cosmetic procedure is listed on their respective pages. Please contact us today to learn more about our surgery center, plastic surgery costs or to schedule a consultation appointment with one of our surgeons.
Financing Options for Plastic Surgery
Here at The Georgia Institute For Plastic Surgery we accept the following payment methods:
Cash
Check
Visa
MasterCard
Discover
American Express
To provide our prospective Savannah plastic surgery patients with additional financing options we work closely with several financing companies that offer medical loans to patients who qualify, including:
CareCredit
SurgeryLoans.com
Advanced Patient Financing
Alphaeon Credit
Plastic Surgery Cost Calculator
We have created a simple loan calculator to assist you in determining the monthly cost of procedures you may be interested in.
To use our loan payment calculator, simply enter the amount, interest rate and term (number of years) in the spaces provided and press the "compute" button. The calculator will review your entries and the resulting data output will display your estimated monthly payment.
The results of this loan payment calculator are for comparison purposes only. They will be a close approximation of actual loan repayments if available at the terms entered, from a financial institution. This is being provided for you to plan your next loan application. To use, enter values for the Loan Amount, Number of Months for Loan, and the Interest Rate (e.g. 7.25), and click the Calculate button. Clicking the Reset button will clear entered values.

If you have any cosmetic surgery related questions, please call us at (912) 355-8000.
Our Locations
Click on red balloon for directions